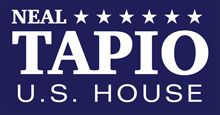 Certified Website Of Neal Tapio for U.S. House
America First-South Dakota Strong.
Let's continue the America First resurgence by sending me to Congress to help President Donald Trump undo the damage we've been living under for more than 40 years. America is on a rebound.
We need to make sure this rebound turns into a renaissance that blesses our children and grandchildren with a time of unmitigated prosperity and potential that has been the American birthright for generations.
Our grassroots campaign counts on the generous contributions of supporters to help us fight back against the establishment and get Neal's America First message straight to South Dakotans.
Contribute now and together, we WILL Make America Great Again!
- Neal
Donated before using a Revv account?
Login